Planning a trip to Galapagos can be overwhelming and the prices may seem out of range for many travelers. In this post, we help you break down the costs of a Galapagos vacation. Note that the prices outlined below are the average across an entire calendar year and do not include international flights. There are fluctuations based on the season and for some holidays. Also check out our Top Ten Galapagos Travel Tips for more helpful information.
Flights to Galapagos
UPDATED SEPTEMBER 30, 2023 as Equair announced they are ceasing all operations immediately (with no warning!): Three Two airlines offer flights to the islands from Guayaquil (GYE) or Quito (UIO), Ecuador: Avianca, Equair, and Latam. As of July 2, 2023, Avianca is offering twice-weekly flights (Sunday and Wednesday) from Manta (MEC) to Baltra. There are two airports serving commercial flights from the mainland: Baltra (GPS) which is actually a separate, uninhabited island north of Santa Cruz (see more in the Transportation section below), and San Cristobal (SCY) which is just five minutes from the town center of Puerto Baquerizo Moreno. Isabela (IBB) also has an airport, but it is only serviced by interisland flights operated by Emetebe and ESAV. Also note that there are no international flights to Galapagos; if you are arriving from another country you will likely have to spend the night at an airport hotel due to the international arrival (typically late at night) and island departure (morning to midday) schedules. In addition, most flights to/from Quito and Galapagos will stop in Guayaquil. These are through flights, and you will not be allowed to get off the plane.
There are several important things to know about flights to Galapagos:
1. There are different prices for Ecuadorian residents vs everyone else. Most booking sites will show the lowest prices in the search results; these fares often don't include any carryon or checked luggage and are actually for residents only. On Avianca, foreigners can purchase any fare. On Latam, you still must purchase the "Top" fare. and on Equair, you must purchase the Cacao Premium fare. The Top fare includes a small personal item, a carryon bag of up to 10kg/22lb (16kg/35lb on Latam), and a checked bag weighing up to 23kg/50lb. If you accidentally or intentionally book any of the other fares on Latam, you will likely be charged the difference at the airport, which is usually a flat fee of $150 + 12% IVA. Please read the terms and conditions carefully before purchasing your flights!
2. If you book with a travel agent or third-party booking site like Expedia, and then once you're in Galapagos you decide to change your departing flight, you will only be able to make changes via that agency or third-party site. Whereas if you book directly with the airlines, you can go to the local airport or contact the airline via WhatsApp or their website and, assuming you booked the "foreigner fares" mentioned above, just pay the fare difference (if there is one) to adjust your itinerary.
3. Unless you happen to catch a fare sale that requires purchase of a round-trip ticket, there is no cost savings to booking your inbound and outbound flights together. As we highly recommend flying into one island and out of the other, it makes sense to book your flights separately. Note that you will be required to show proof of an outbound flight reservation prior to traveling to Galapagos (see more in the Entry Fees section below).
4. Flights to Galapagos are often cheaper if booked on the airline's Ecuador website vs the US (or other country) version. Don't believe us? Try this: Open two incognito browser windows. In one, price your flight on Latam.com/ec; in the other, price the exact same flight on Latam.com/us. Just be sure you read the fare rules (fine print) carefully!
So what does a flight to Galapagos cost? Any foreigner not residing in Ecuador can expect to pay an average of $200 each way (from Quito or Guayaquil to either Baltra or San Cristobal and vice versa) including one checked bag.
Galapagos Entry Fees
The Galapagos National Park entrance fee is $100 cash only payable on arrival when you land at either Baltra or San Cristobal airport. The fee is reduced to $50 for minors under age 12. Residents of Bolivia, Colombia, Peru, Argentina, Brasil, Paraguay and Uruguay pay a lower rate, and Ecuador residents pay only a nominal fee. Note that this entry fee must be paid every time you enter the islands from mainland Ecuador.
One other unavoidable expense is the $20 Transit Control fee you will pay when you check in at the airport on the mainland. You receive a receipt in the form of a card which shows your dates of entry and exit (don't worry if the exit date is not correct) and states that you cannot earn money or stay in the Galapagos longer than 60 days in a given year (365 day period). You must retain the duplicate of this card as you will have to present it when you check in for your return flight to the mainland; that's when the proper departure date will be recorded in the immigration record. Note that you will be required to show proof of an outbound flight in order to travel to Galapagos.
A foreigner will have to pay $120 to enter Galapagos.
Galapagos Cruises
If you can make a cruise fit into your budget, we highly recommend including a minimum of six nights at sea as part of your Galapagos adventure. Why? Because, while you can visit a variety of uninhabited islands via day trips from Puerto Ayora or Puerto Baquerizo Moreno, you will spend about half of the day in transit to and from the sites you're visiting. A cruise maximizes your time by doing much of the navigation at night, plus it is the only way to reach the western side of Isabela, Fernandina, and many other fascinating sites. You'll have a minimum of two excursions and often three or more activities per day like hiking, snorkeling, or kayaking, plus your accommodations, food, and non-alcoholic drinks are included. While there are some itineraries as short as two nights, any cruise shorter than four nights will not visit the western islands because of the navigation time required. Note that there are no cruises from mainland Ecuador or anywhere else that are allowed to stop in Galapagos.
About 70 different cruise boats operate in the archipelago; the majority hold just 16 passengers while the largest, Silversea's Silver Origin, carries up to 100 passengers along with 90 crew members. There are boat types to fit every interest and a range of budgets, including boats that cater specifically to divers. We are particularly fond of the smaller boats that offer the western islands itinerary, or one that includes the northern islands of Genovesa and Marchena, mainly because you cannot visit these places on a day trip, and because of the diversity of wildlife and geology you will encounter on these islands.
In short, a Galapagos cruise is unlike any other cruise you may have taken anywhere else in the world. Discard any negative connotations you may associate with the word "cruise" and especially the "big ship" experience and consider seeing the islands as part of an ocean-based adventure.
What does a Galapagos cruise cost? Expect to pay a minimum of $350 per person per day for a "tourist class" cruise, around $600 per day for a "first class" cruise, and over $1,500 per day for a luxury, all-inclusive cruise like Silversea. Dive cruises also fall into the upper price range. We partner with Galapagos Best Option to sell all types of cruises to fit your budget and interests. Contact us for more info!
Galapagos Island-Hopping Tours
If you don't have the financial resources for a Galapagos cruise, but still prefer to have your trip coordinated in advance, then a land-based island-hopping tour is your best option. These prearranged group tours are usually for 10 to 20 guests. Daily activities led by a national park guide, transportation, mid-range accommodations, and some meals are included. You'll typically travel with a tour leader who is employed by whatever agency you book with, and who is responsible for ensuring everything runs smoothly.
Most itineraries are for one full week and include overnight stays on at least two inhabited islands. You'll visit the most popular land-based tourist sites as well as do a couple of day trips by boat, plus have some downtime to souvenir shop or just relax on the beach.
Most Galapagos island-hopping tours are priced at around $200 per person per day. We partner with Galapagos Best Option to offer several island-hopping programs as well as custom itineraries. Contact us for more info!
Galapagos Hotels
We all have different comfort levels and the Galapagos islands have accommodations to cater to all but the most exacting of standards. You can find everything from hostel dorms with shared bathrooms and communal kitchens to new, modern, foreign-owned hotels. You can also rent a room, mini-apartment (often called a suite) or even an entire house via sites like Airbnb and Booking.com, but note that these properties are not strictly regulated so what it says in the listing may not be accurate.
Not all places have air conditioning and hot water is often only available via electrical shower heads. Most prices do not include breakfast. Even if the property has wifi, do not expect it to work very well. Starlink service was introduced in Galapagos in March 2023 and some businesses are connected, so if fast internet is important to you then be sure to ask if it's available.

Read reviews thoroughly if you are booking in advance, and try to balance the price and amenities with the possibility of a getting a decent night's sleep. For example, on San Cristobal island, if you stay in a hotel near the waterfront you will hear the sea lions; in any other part of town you will likely hear dogs barking or roosters crowing at all hours.

The best way to get the cheapest rate is to contact the property owner directly via email or WhatsApp; make an attempt to write/speak Spanish; pay in cash and don't ask for a receipt. You can also usually negotiate a slightly better rate if you stay longer than three nights. Note that some places charge per person per night, while others list their rates as per room per night.
The average cost of well-reviewed budget accommodations is $20 per person per night. Mid-range hotels are around $75 per room per night, while waterfront and more luxurious properties are typically $200 or more per night.
Galapagos Day Tours
While land-based day trips on any of the inhabited islands typically consist of 3-4 hours exploring the highlands by car or bicycle, or going snorkeling or kayaking, water-based tours involve spending 2-4 hours in a speedboat or catamaran transiting to another island or site of interest, plus some combination of hiking and snorkeling, with lunch onboard included.
The average Galapagos land-based day tour is $100 while you can expect to pay closer to $200 for a water-based excursion. Check out our list of the best Galapagos day tours!
Restaurants and Bars in Galapagos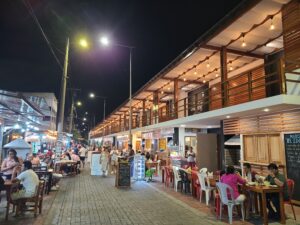 Food and drink prices are typically twice as much in the islands as on mainland Ecuador. This is simply because most products must be flown in or shipped via cargo boat. Still, eating out in Galapagos can be relatively inexpensive.
Local restaurants (meaning those that don't cater to tourists, have no printed menu, and where English is not spoken) offer a filling breakfast of encebollado (fish soup), bolón (a ball of mashed plantains usually filled with cheese or pork) or other savory dishes for $6 or less. There are also many bakeries where you can buy fresh bread rolls or pastries for less than $0.50 each. Almuerzos (fixed price lunches) are $5-$6 and include fresh juice, a bowl of hearty soup, and a choice of a few different entrées. Meriendas (fixed price dinners; same format as almuerzos) are $6-7. These restaurants also offer a la carte dishes for around $12. Just do not expect them to accommodate any food allergies or other dietary restrictions.
Eating out at the more tourist-oriented places on any of the islands will cost you an average of $8 for breakfast, $10 for lunch, and $15 for dinner, not including drinks. Some places offer the same menu all day long; others have different prices according to the time of day. There are a few higher-end restaurants in Puerto Ayora and Puerto Baquerizo Moreno where you can expect to spend at least $25 per person.
What you may call a bar in the U.S. or Europe hardly exists on the islands. Most places that are popular for drinking also serve food, and only a few have actual "bar" seating. Expect to spend at least $6 for a large bottle of beer and $8 for a glass of wine or a cocktail. Many places offer some version of happy hour where you get three beers for the price of two, or two cocktails for $12, or something similar.
Of course, the easiest way to save money is to stay in accommodations that have a kitchen so you can cook some meals, heat up leftovers, and store refrigerated items like yogurt or beer. Each of the main towns on San Cristobal, Santa Cruz and Isabela has a local market as well as a variety of grocery and convenience stores. Again, you may find prices to be a bit more than you're accustomed to, but buying provisions and cooking some meals will still cost less than eating out.
While you can certainly bring some food with you (and we highly recommend doing so if you have any dietary restrictions or if you're a picky eater), it's important to note that fresh fruits, vegetables and meat products are prohibited to be transported from the mainland or between islands; your luggage will be inspected before and after each flight and ferry ride.
You should budget a minimum of $20 per person per day for eating and drinking in Galapagos, double that if you plan to frequent the more tourist-oriented restaurants and bars, and triple it if you eat at the higher-end places.
Transportation in Galapagos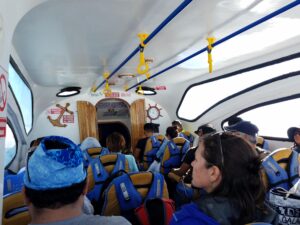 Once you are on the islands, you don't need to spend much money to get around. Most of the free sights are walking distance from the main towns on each of the inhabited islands. The ferry docks in Puerto Ayora and Puerto Baquerizo Moreno are a 5-10 minute walk from most accommodations, while those arriving by ferry to Isabela might prefer to take a taxi into Puerto Villamil as opposed to walking 20+ minutes on the gravel path along the main road.
Taxis, most commonly crew cab pickup trucks, have fixed prices depending on the destination. For example, on San Cristobal island, any trip in Puerto Baquerizo Moreno is $2 and a one-way ride to El Progreso is $5. That is the price per taxi, not per person. You can also hire a taxi by the hour or, for a fixed rate, to do a self-guided tour of the highlands.
You cannot rent a car or motorcycle in Galapagos but you can rent bicycles (typically for less than $5 per hour or ~$10 for a half day or ~$20 for a full day) and some places have electric scooters.
There is very limited local bus service but, due to the infrequent nature of the schedule, we don't recommend using it.
Inter-island transport is via lancha (30-passenger speedboat — the word ferry is a misnomer!) which costs $30 or via small plane for ~$150. If your flight arrives at or departs from Baltra, you will have to pay for the airport shuttle bus $5 ($2.50 for seniors and children age 2-11), ferry across the Itabaca Canal $1, and bus $5 or taxi $25 to Puerto Ayora.
Unless you're not fond of walking, you probably won't spend more than $50 per person on ground transportation during your Galapagos vacation. Don't forget to budget for inter-island transport if you're not taking a cruise or pre-arranged island-hopping tour.
Miscellaneous Expenses
As mentioned above, everything generally costs more on the islands and you will save money by coming prepared. Don't forget to bring items like good sunglasses, sunscreen (a small bottle costs at least $20 in Galapagos!), wide-brim hat, swimsuit, travel towel (also can be used at the beach), sturdy sandals and walking shoes, and a refillable water bottle. Check out our recommended packing list.
You can rent snorkel gear (mask and snorkel) for about $5 per day. The price is higher if you also want fins (add ~$5) and/or a wetsuit (add ~$10) so it makes sense to bring your own if you plan to do a lot of independent water activities.
Souvenir stores are abundant but many carry identical hats/t-shirts/trinkets, almost all of which are imported from China. We encourage you to support local artisans by seeking out shops that only sell items that are made/sourced locally.
Tipping is expected on cruises (envelopes will be provided to tip the crew and guide separately), tours (separate tips for the guide and tour leader), and day trips/excursions (separate tips for the guide and crew/driver if applicable). Our tipping guideline is $10 per person per day to each of the individuals/groups mentioned previously. In local restaurants, tips are not expected; in tourist-oriented places, it's appropriate to leave 10% of the total bill (but first check that the tip — also called propina or servicio — is not already included). It's not customary to tip taxi drivers unless they also act as an informal guide and/or help with your luggage. A small tip is also a nice gesture for hotel staff if they go out of their way to help you.
In summary, Galapagos trip costs can vary substantially depending on the type of vacation and activities you choose and the length of time you will be on the islands. We can help you plan a trip on any budget!
---
Is this website helpful for planning a trip to Galapagos? You can show your appreciation by clicking here.
Alethea first came to the islands as a budget-minded solo backpacker and is now a local resident who has been on four Galapagos cruises, has done many day trips, and has visited all but a couple of the uninhabited islands. Contact us and tell us how we can help you plan your dream trip!