These are our best tips to help you prepare for a trip to the Galapagos islands.
So you've made the big decision to come to Galapagos and perhaps are still deciding whether to take a cruise, go on an island-hopping tour, travel independently, or some combination of all the above. We've addressed some of the pros and cons of cruising in a previous post, so here we want to share our Top Ten Galapagos Travel Tips whether you're a DIYer or are going the all-inclusive route.
1. Cash is king.
Ecuador converted to the US dollar in 2000. The currency is identical to what is used in the US although $1 coins are more common here than dollar bills. Bringing small bills (5's and 10's in particular) is helpful as places have a tendency to run out of change.

On San Cristobal, all but one ATM is owned by Banco del Pacifico. Their machines accept most foreign debit cards, but have a $200 per transaction withdrawal limit (you can withdraw no more than $600 in one day no matter how many different Pacifico machines you use) and charge a $4.00 fee per transaction. On Santa Cruz you'll have more options, including three different ATM machines outside the grocery store near the main dock. Isabela is even more limited than San Cristobal.

We highly recommend you bring sufficient US cash for your entire trip as only the higher-end hotels, restaurants and shops accept credit cards. Tour operators will add a minimum 12% fee if you pay with a credit card and often it's closer to 15-20%. That's apart from whatever fee your card might charge for an international transaction, which still applies even though it's in US dollars.

If you book with Galapagos Surf Discovery, we accept PayPal and Venmo as well as credit card payments via WeTravel.
2. Medical services are limited.
San Cristobal and Santa Cruz each have one public hospital, but facilities are basic and limited. A few of the doctors and nurses speak some English. Isabela's hospital is nothing more than a clinic. If you just need stitches or treatment for a minor illness you'll have adequate, free care, although you pay for all medications and basic supplies. Anything more serious will probably require travel to continental Ecuador; if it's not life-threatening you'll have to purchase a regular seat on Avianca, Equair or Latam. Otherwise, you'll be evacuated on the military plane.

Remember, if a life-threatening illness/injury occurs on another island you'll first be transported on the Armada's helicopter to San Cristobal, then transferred to the hospital there or directly to the Armada's plane and flown to Guayaquil and transferred to a public hospital. Also note that there's only one helicopter and one plane and they're not always available, plus the local authorities make the decision as to whether your condition warrants emergency evacuation.

The point is, no matter what your age or health, travel medical insurance with evacuation coverage is highly recommended. Also be sure you have the emergency contact number for your home country's consulate or other citizen services in Ecuador. You will definitely need their assistance in a worst case scenario situation.

San Cristobal, Santa Cruz, and Isabela have multiple pharmacies and many medications are available without a prescription. Only one pharmacy is open overnight on a rotating schedule, so you'll have to ask around if you need to purchase something in the off hours. Also note that a lot of specialty medications are not available on the islands, so if you take any prescriptions regularly be sure you bring plenty of extra meds.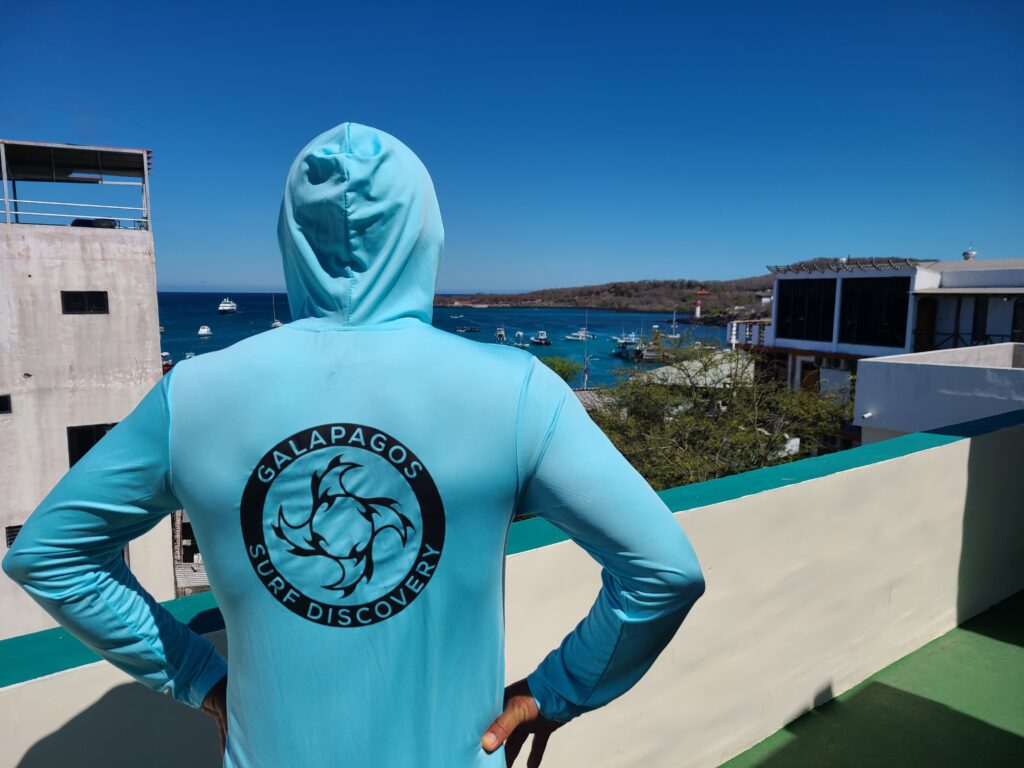 3. Sun protection is a must at all times.
The equatorial sun is intense! Every time you go outside during daylight hours, be sure you have applied sunscreen to all exposed skin. Cloudy, drizzly day? It doesn't matter; you'll still be exposed to UV rays. Going on a day trip like the 360 tour on San Cristobal which includes 3-4 different snorkeling stops? Apply sunscreen after every aquatic activity. Even better, wear lightweight long-sleeve shirts, pants, and a wide-brim hat for added protection. Our Galapagos Surf discovery branded apparel is a great addition to your island-hopping wardrobe. Don't forget to put sunscreen on your feet and ears!

Check out our Galapagos packing list for more tips on what to bring for your island vacation.
4. To maximize your sightseeing potential, fly into one island and out of another.
If you're coming to Galapagos for more than 3-4 days (we highly recommend at least two weeks), be sure to book a flight into GPS or SCY and a flight out of the other airport. Prices are the same whether you buy one way or round trip, and you can choose which airline(s) has the best schedule and price for the specific days you're traveling.

Remember, San Cristobal's airport (SCY) is a 5-minute taxi ride from the town center of Puerto Baquerizo Moreno while Baltra (GPS) is actually a separate, uninhabited island north of Santa Cruz which requires a combination of bus, ferry, and another bus or taxi (allow a total of 2 hours) to get to Puerto Ayora.

You can read more about transportation in our post about Galapagos trip costs.
5. The interisland ferries are NOT what you think.
This may be the biggest misconception in Galapagos! The so-called interisland ferries are not ferries at all but instead are speedboats holding approximately 30 passengers each. There's no assigned seating, no air conditioning, and no possibility of using the restroom during the often very rough 2-hour navigation. Well, you can go if it's an emergency but the captain will have to stop the boat so you don't get hurt! It's practically guaranteed that at least one person will be throwing up within 30 minutes of departure, and even if you don't have a tendency to get motion sick you'll be gagging on the diesel fumes, especially if you're stuck near the front (bow) of the boat.

Not all "ferries" are equal even though the price is the same. Some have bench seats along the sides, some have small, hard plastic seats, while others have wider, plush semi-reclining seats. Even with cushioned seats you're going to get thrown around quite a bit by the waves. If you have back problems or any kind of musculoskeletal issues you will be miserable.

Also, there have been two serious ferry incidents in the past year, both of which involved the complete sinking of the boats in open water and one of which resulted in four deaths.

Please don't underestimate how physically challenging an island crossing can be; we've had countless people say it was the worst experience of their lives. Consider splurging for an interisland flight, especially from San Cristobal to Isabela. That extra $90 may literally save your trip!

You can read more about transportation in our post about Galapagos trip costs.
6. Tipping is expected, but not mandatory, on any kind of organized tour or cruise.
Our tipping guidelines are as follows — remember to always tip in cash to ensure the money goes to the intended recipient(s):
Up to 1/2 day activity for the guide or local showing you around: $10 per person
Full day activity/day trip as above: $20 per person
Crew on day trip boats (communal tip jar for entire crew): $10 per person
Crew on liveaboard cruises (one envelope for tipping the entire crew for the duration of your cruise): $10 per person per day
Galapagos National Park Guide on cruises (one envelope for tipping the guide): $20 per person per day
These are our suggested minimums. For anyone that goes out of their way to help or has to do more work to cater to your needs/interests or helps care for kids or less mobile travelers, please adjust accordingly.

Tipping is not common in local restaurants, bars, etc. but feel free to round up the bill to the nearest dollar or leave a maximum of 10% of the total bill. This should be handed directly to the staff with a "Un poco extra para ustedes, muchas gracias," otherwise they'll probably try to give you change.
7. Prices are generally not negotiable.
Rates for day trips and other activities are usually set at the beginning of every year. Adjustments may be made (prices may be increased) due to factors beyond the operators' control, like when the government raises fuel prices, or when supply costs increase unexpectedly e.g. due to a cargo ship getting damaged in early 2023, which caused a months-long shortage of just about everything.

These day trip and activity rates are generally not negotiable. Occasionally you'll see a range of prices because there a few luxury yachts that do certain day trips. Unless you are specifically reserving a spot on one of these luxury yachts, or for a unique itinerary that is different than the norm, the price should be close to the same no matter which agency you book with. Keep in mind that the agencies can totally mark up the operator's base price however much they want to, so there is a possibility you'll find different prices whether you book online (almost always at least 25% more expensive) or through local agencies (if it's the exact same day trip and boat then the price could vary by $10-20). So in that sense the price may be "negotiable" — if you're buying from an agency that has already marked up the price sufficiently enough, they will have room to negotiate back down to the standard price.

Some day trip prices may get discounted for the low season. For example, from September through October 2023, three boats have reduced their San Cristobal 360 tour price from $180 (regular price) to $160 (discounted price).

Also, you may be able to get a significant discount on the normal price of a cruise in the week or two prior to departure if there are still spaces available. But this generally only applies for one or two passengers, is not likely during peak season (December/January, June-August) and you'll need to be very flexible with your flights/travel dates. Even with a last minute discount, you should still expect to pay around $2,000 for a week-long cruise; don't forget to budget for flights, national park entry fee, tips, etc. Read more in our post on Galapagos trip costs.
Also please note that the vast majority of travel agencies selling package tours to Galapagos are based in Quito or in another country entirely. Plenty of them are selling activities, hotels, etc. that they have not personally vetted. If things do not go according to plan, do they have someone on the ground in Galapagos to help should you need it?

We're not saying that you absolutely shouldn't book with an agency that's based elsewhere. Just consider how much of the money you're spending may not benefit anyone in Galapagos. As with anything, do your research, check reviews, and be sure you're communicating directly with an owner or authorized representative and that the payment and cancellation terms are clearly spelled out on their website and in written communications. Whenever possible, buy direct from local travel agencies and tour operators.
8. Be honest about your ability and experience.
When a tour operator or travel agent asks if you know how to swim, snorkel, surf, kayak, or do any other physical activity, please tell the truth. If you have any physical limitations, please mention it prior to booking. This is for your own safety as well as other tourists, and it helps us assess staffing needs and determine what activities to offer. In addition, if you are prone to motion sickness, be sure to tell your travel agent and tour operator in advance.
Sadly, on a daily basis, we observe tourists breaking the park rules. The most common violation is getting too close to the wildlife — the rule is to keep 2 meters or 6 feet distance between you and the animal. That means if a sea lion approaches you on the beach, you must get out of its way! That's a bit harder to do in the water, but you should still do your best to give the animals their space. It is completely forbidden to touch any animal, even a lava lizard or a crab.
Also don't forget it's forbidden to bring organic items to or between islands (dairy, seeds, fruits, plants, animals) or to take rocks, shells, teeth, plants, etc. from any place in Galapagos.
10. Don't worry about the weather or try to rely on weather apps.
It could rain at any time; the ocean swells can be unpredictable; water temps vary. There is no forecast that's going to tell you with absolute certainty which days it will be overcast and rainy. It's better to understand that there are essentially two seasons in Galapagos and with the strong El Niño in 2023 we're way off the mark for a normal weather year. There's really no "best time" to come to Galapagos, so just make your plans for the weeks that work best for you!
And when you do get here, we highly recommend you "go off the grid." Yes, most hotels and upscale restaurants have internet. Starlink became available on the islands in March 2023 so you might even have access to a high speed connection. But it's all via satellite, and weather conditions and the overall number of users have a significant impact on bandwidth. You will only have a phone signal in the three main towns; Claro works best.

For most people, a trip to Galapagos is a once-in-a-lifetime adventure. Why muddle it with news, politics or whatever else may be going on in the rest of the world? Better to seek out a local resident, buy them a drink, and chat with them about island life.
---
Is this website helpful for planning a trip to Galapagos? You can show your appreciation by clicking here.
We not only live in Galapagos, but we've also been on multiple cruises and visited all of the day trip destinations on Isabela, San Cristobal, and Santa Cruz. We will give you our unbiased and expert opinion as to how to make the most of your trip on any budget. Contact us and let us know how we can help you!